The reserve of Castelvecchio
This reservation is a few kilometers from the villa San Gimignano. The
reserve occupies the western part of the Municipality of Poggio, a survey of just over 600 meters, which for almost unbroken forest cover, stands on the hills surrounding cultivated. The reserve is known for the medieval town of Castelvecchio, a military outpost in the town of San Gimignano, which controlled the territory from here on the border with Volterra. The remains of Castelvecchio stand on a rocky cave limestone rock that characterizes the entire reserve and which has influenced the morphology and vegetation, especially in the southern tip of the reserve where the waters of the Botri Libaie and Castelvecchio, have dug deep ravines bordered by steep cliffs. The environment is home to wild boar, deer, birds of prey like hawks and Sparrowhawk Buzzard and small rodents such as the dormouse.

For its natural importance, besides being a natural reserve, Castelvecchio is also a site of Community importance (sic) located inside of the "Habitat" which includes in addition to reserves, much of the hill of the City for a total of 1,114 ha

Borgo di Castelvecchio
This village is mentioned as early as the twelfth century as a fortified settlement pertaining to the bishops of Volterra, and by the end of the
century San Gimignano was intended to seize it. By the mid 1200's San Gimignano exercised its sovereignty over the bishops of Volterra Castelvecchio but continued to demand for a long time, "fodoro", ancient origin of the imperial tax on every household. The castle suffered a rapid decline as early as in 1458, was inhabited by only seven families. Inside the walls of filaretto, partially preserved, there are ruins of ancient buildings, a tower and a Romanesque church with semicircular apse
Sleeping in the Vicinity of Castelvecchio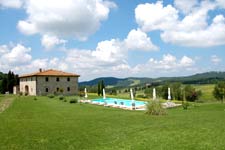 Our villa in Tuscany is an ancient farmhouse used as a holiday home, where you can rent the whole house or individual rooms and apartments. The cottage is only 5 km from the village of Castelvecchio and only 500 meters from the reserve of Castelvecchio. For those interested in discovering this fascinating and little-known places from mass tourism, this is a perfect place, because being on a reservation you can make numerous excursions.
For all guests, the Villa le Ginepraie organizes free guided hikes.
For more information for rent this Villa
you can visit our website:
www.leginepraie.com
www.villaleginepraie.com
or contact us at:
MAIL: info@leginepraie.com
Cell1: 0039-338.2138464
Cell2: 0039-333-8885857
TEL: 0039-0588-35113