Today we are publishing this wonderful review written on the website TripAdvisor from one of our customer who has rented in July with his family and his friends the entire villa with swimming pool
Title: a Holiday to remember
Review: We spent the most wonderful week at this delightful Tuscan villa. It is more like a hotel in its standard of accommodation – large rooms, comfy beds, well-equipped kitchens, large showers, everything pristine clean. The owners who live close by are the most wonderful and welcoming hosts; polite, charming, full of useful information about the locality. Paola's cooking is sensational. Nothing is too much trouble for them. They have managed to achieve a perfect balance between remaining out of sight but being there when you want or need them. There is so much for children to do and so much for adults to explore nearby; the gardens too are beautifully tended and the pool area is perfect. Situated halfway between the two stunning towns of Volterra and San Gimignano. I could not say enough good things about Villa le Ginepraie. A wonderful welcome and experience awaits you.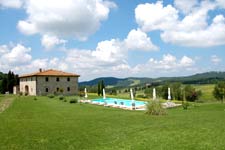 Please do not hesitate to contact us for any information on our villa.
We stay at your disposal.
MAIL: info@leginepraie.com
Mob1: 338-3138464
Mob2:  333-8885857
Phone:  0588-3511