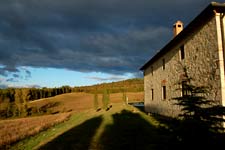 September and October in Tuscany
During this period, Tuscany begins to change color again, the air is cooler, autumn festivals begin in September and October, the cities begin to empty from the mass tourism and to regain their charm.
For those who want to book a holiday in Tuscany in September and October, Ours Tuscan Villa offers different kinds of accommodation.
You can book one of our rooms with bed and breakfast service. In the room you will find a bottle of Chianti with two glasses. Or you can rent one of our luxury apartments (apartments for rent are very large and equipped with all comfort: fireplace, satellite TV, refrigerator, dishwasher) and find at your  arrival a bottle of Vernaccia di San Gimignano and a bottle of Chianti.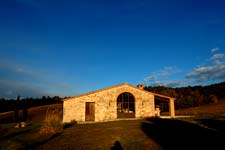 If you are a group of friends and are interested in renting the entire house in September and October you will have the whole house with swimming pool and enjoy total privacy as the only guests of the property. Complimentary 2 bottles of Chianti and 2 bottles of Vernaccia di San Gimignano. (Possibility of renting the villa in September and October just for a weekend)
For all those who book a holiday in Tuscany in September or October at our house, there are free lessons on yoga. Guests can also use the many services offered by our villa in Tuscany. You can get massages in your room or poolside, horseback riding or rent a quad or mountain bike. If you have to celebrate an anniversary why not organize a departure from the villa directly with the balloons?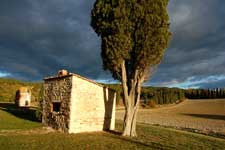 TECHNICAL DATA OF VILLA FOR RENT IN SEPTEMBER AND OCTOBER
400 square meters
5 bedrooms
6 bathrooms
3 kitchens
3 living rooms with fireplace and satellite TV
loggia with wooden table for 12 people
terrace with table for 12 people in mosaic
swimming pool 6 x 12
stone oven