Today we publish this fantastic review written on TripAdvisor from our guests who were well satisfied with their stay at our villa.
TITLE:Once in a lifetime vacation
REVIEW: This is a must stop for anyone wanting a superior experience in Tuscany. The villa is outrageously beautiful, set among green rolling hills that you could swear were taken from a postcard. The hosts, Val and Paola, and their adorable daughter Viola, were the most welcoming of Italian ambassadors; they willingly gave of their time, their experience and their warmth. They directed us to local restaurants, one of which we ate at three times during our one week stay because it was so good. They were patient beyond belief with our questions and need for directions! We enjoyed their suggestions for sight seeing and wine tasting more than we could have imagined. They made this 'once in a lifetime vacation' a true 'once in a lifetime experience'.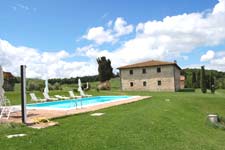 We thank our guests very much for this nice review and we hope to house them again ….
If you need more information about this tuscan villa you can visit ours website:
www.leginepraie.com
www.villaleginepraie.com
or you can send us an email:
info@leginepraie.com
or you can contact us by phone:
Phone 1:  0039 338 2138464
Phone 2:  0039 333 888 5857
Phone 3:  0039 0588 55113
Best regards
Paola and Valerio