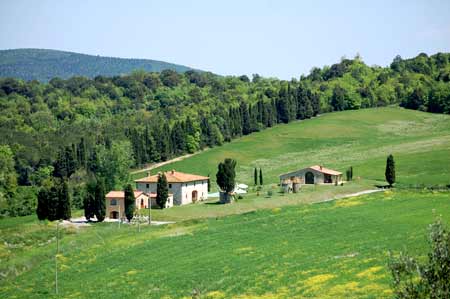 Today we publish some photos where you can see the panorama from our Villa for rent .
" Finding a villa vacation rental may not be easy , many times the pictures look beautiful and then arrived at the scene it turns out that the house is rented and booked online in a context different from that described ." For these reasons, over the years we have published many photos of our villa , to show you the privileged position in which it is located , today we publish some where you can see the 360 degree view from the villa you will enjoy
Almost all of the photographs were taken during these days:
NORTHWEST VIEW


In this photo taken towards the north- west you can see the view of those who have guests from the pool of the villa.
At the bottom center you can see a long row of cypress trees leading to the village of Sensano , our pool has a size of 5.5 x 12 meters with a depth varying from 1.40 to 2.20 meters . Every morning in the pool is put the little robot that cleans up in 2 hours around the bottom. Every morning also checks the levels of chlorine and ph .
NORD VIEW


In this photo you can see the view from the house looking north . After all , in the woods there are many deer that come out at dawn and dusk to graze on the field . ( Watch the video of deer in the villa)
All guests without too much difficulty can watch this show .
EAST VIEW


This photo was taken from the porch in the summer of Paola and Valerio in an easterly direction , you can see on the left the durum wheat field , while on the left the row of cypress trees leading to the holiday cottage .
SOUTH VIEW


If you look to the south, from our house you can see this pretty lake, this photo was taken towards the end of summer, in fact, on the left you can see the plowed field, in celo can observe the typical clouds arriving around September
WEST VIEW


With this last photo, taken in the west we hope to be able to give you an idea of the beautiful panoramic view of 360 degrees that you can get in this cottage rental, as you have seen around us are fields, woods and a small pond.
This house is located in a reserve , looking at the view will not be difficult to see depending on the season , deer, foxes , wild boars, hares, porcupines , squirrels and numerous birds including the hawk.
CONTACTS:
Paola e Valerio
Villa le Ginepraie
www.leginepraie.com
www.villaleginepraie.com
info@leginepraie.com
mob Valerio   0039-338-2138464
mob Paola   0039-333-8885857
villa   0039-0588-3511