This kind review on ours Tuscan villa has been written by our Australian guests on travel website Tripadvisor.
Title: Tuscan paradise
Review: Our family of six adults stayed in The Villa Ginepraie for a week in June 2013 .I find it hard to put into words how beautiful it was. The pictures on the web site are all true but they cannot possibly do it justice. It is all so much better ,the decor , the pool, the wonderful country side is amazing.We rented the whole villa for the six of us and found each apartment was very big and contained everything needed. We would visit lovely little towns like Volterra, Lucca, Siena, and Pisa which are all only a short drive away then come back to the peaceful villa for a swim in the late afternoon. Paola and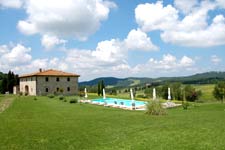 Valerio and their beautiful little daughter were delightful and helpful hosts and the dinner Paola cooked for us was delicious .This was a holiday we will all remember as one of the best ever . Picture book countryside ,lovely villa, towns and little resterants close by .It is truly a Tuscan paradise. Hopefully one day we will be able to return. Thank you Paola and Valerio.
Thank you very much for the nice words expenses, we hope to welcome you soon.
Paola e Valerio
Villa le Ginepraie
info@leginepraie.com
www.leginepraie.com
www.villaleginepraie.com