Our villa in Tuscany has received the certificate of excellence from Tipadvisor 2012 for the category Holiday home in Volterra
Since 2008 we have received 58 reviews, Thanks very much all of our guests who have stayed with us and gave us such great satisfaction.
For the rental of the villa in 2013, we will further improve our services in order to make more and more unique your holiday
The villa in Tuscany
This villa in Tuscany is located in Volterra and is a holiday home that can accommodate up to 12 people, has a beautiful swimming pool and a large garden.
The villa is immersed in a natural reserve where it is not difficult to spot deer, wild boar, foxes, hawks and many other wildlife species.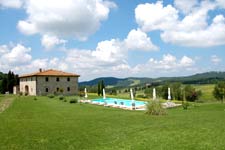 For more information on Villa in Tuscany you can contact us at the following addresses:
WEBSITES : www.leginepraie.com – www.villaleginepraie.com
MAIL: info@leginepraie.com
Cell1: 0039-338.2138464
Cell2: 0039-333-8885857
TEL: 0039-0588-35113