Two new reviews about the villa in Chianti, written by two guests on TripAdvisor, who stayed in July
. We thank the dear Silvia (1° review) for this beautiful review on Tripadvisor and we confirm that the next time we'll do Yoga to the lakes of Montenero, so refreshing dip after class ….. see you soon.
Also greet all the guis who have stayed at the Weekend of July 7, to celebrate their friend.
1) TITLE: Unforgettable Tuscany
REVIEW: Me and my family spent a memorable week in this dream villa nestled in the green Tuscan hills of Chianti. Already being infused only the view and relax as I could attend yoga classes held by the owner, which in addition is also a yoga teacher. Impeccable service, excellent amenities and delicious breakfasts
2) TITLE: Relax in beautiful Tuscany
REWIEW:A group of friends who want to relax 2 days (or possibly even more!) And enjoy the fabulous scenery should definitely try this Chianti Villa. Peace, beautiful landscapes, but also clean rooms and clean rooms and swimming pool …. not to be missed!
These reviews have been translated from Italian, to see the original review you clik on the link below:
http://www.leginepraie.com/villa_toscana/2012/07/12/villa-in-chianti-con-lezioni-yoga/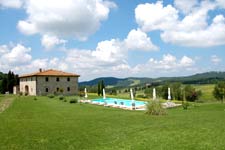 For more information on a stay in this villa in Chianti with any yoga classes, here we provide you with the contact details you can contact us:
www.leginepraie.com
www.villaleginepraie.com
or contact us at:
MAIL: info@leginepraie.com
Cell1: 0039-338.2138464
Cell2: 0039-333-8885857
TEL: 0039-0588-35113