We publish today this fantastic review in tripadvisor, written by our guests who have rented the entire Villa in June.
TITLE OF REVIEW: Heaven
REVIEW: With a group of friends spent three days relaxing in this unforgettable villa in Tuscany in June. Hospitality and helpfulness of the owners really delicious, as well as warmth and kindness. Tastefully furnished rooms, fully equipped kitchens and all very clean. Swimming pool overlooking the Tuscan hills for moments of genuine "detachment" from the city hectic. Eventually he would not go away … took more  We thank our guests again for the beautiful words spoken to our villa.
< All the reviews of the villa in Tuscany on Tripadvisor>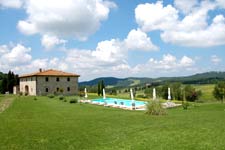 For more information for rent this Villa in Tuscany in june
you can visit our website:
www.leginepraie.com
www.villaleginepraie.com
or contact us at:
MAIL: info@leginepraie.com
Cell1: 0039-338.2138464
Cell2: 0039-333-8885857
TEL: 0039-0588-35113